Meme coin season, as it's often called on crpyto twitter, seems to have started. PEPE on Ethereum opened the floodgates, and now new meme coins are launching every single day. But this craze is not unique to Ethereum; Cardano has its fair share of meme coins doing crazy numbers. The charge has been led by SNEK doing 13M ADA daily volume, more volume than the rest of the top 10 coins combined.

Trending coins on Cardano, with SNEK leading the charge. Data from TapTools.io
The price of SNEK has increased nearly 27,000% from the pre-sale price, leading many hopeful traders to try to find the next highly profitable coin to trade. Unfortunately, the meme coin frenzy is also very attractive for scammers. With traders worrying about missing the boat on the next big boom, scammers have been able to find huge paydays.
Ethereum vs Caradano
Trading on Cardano has its benefits over Ethereum. While DeFi volume is higher on Ethereum than it is on Cardano, Ethereum users have to worry about potentially malicious smart contracts and high gas fees.
Tokens on Cardano are native assets, meaning that the token is not a smart contract but instead treated just like the native currency, ADA, on the ledger. There is no fee market on Cardano, transactions are processed in a first-come, first-serve method. While this can result in slower transactions during peak traffic, transaction fees don't increase with traffic.
While Cardano may have several advantages over Ethereum for DeFi traders, it is not exempt from scams and rugpulls. Here are some tips to be safe while you trade meme coins on Cardano.
Get to Know the Team and the Project
The most common scam with any kind of DeFi token is a rugpull. In a rugpull, the project founders generate hype and increase the price of their token before either dumping their tokens quickly for a large profit or withdrawing the tokens in the liquidity pools. In order to avoid this, only buy into tokens with teams that you trust. Teams with public facing identities and well-known individuals are less likely to do a rug pull, as they have more to lose than anonymous teams.
Another thing to investigate before buying tokens is the distribution of the tokens, also called the tokenomics. If you trust the team, does the distribution look good? While almost every project will reserve some percentage of the tokens for future development and the team, make sure that the distribution makes sense. Higher percentages for the team could be a sign of a rugpull, since they have more tokens to dump.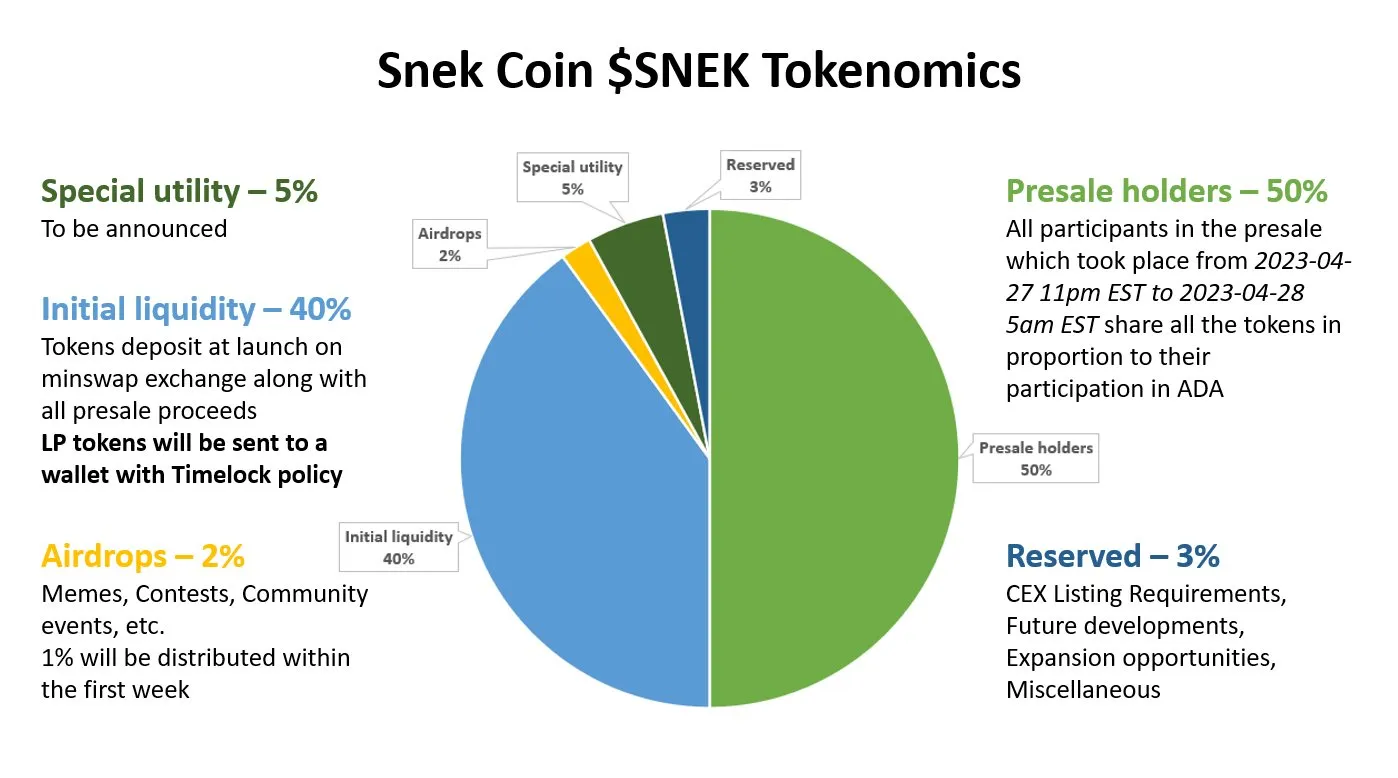 The tokenomics of snek. The snek launch was very fair, with 90% of tokens going to liquidity and presale.
Too Good to be True? It Probably is…
With so many projects launching these days, projects will make big promises to attract buyers. Stay on the lookout for promises of utility, returns, or rewards that seem too good to be true. While those promises sound exciting at first, you should consider how feasible they really are.
Many of those promises are only made to attract buyers, and the more unreasonable they are the more likely they are to be malicious. Generally, it is best to try to slow down the FOMO. Take a deep breath, and think critically about what you're being promised.
Triple Check URLs and Transactions
While you don't have to worry about signing a malicious contract on Cardano like Ethereum users do, you still need to look out for phishing websites. Always be sure to use reputable and trusted decentralized exchanges. When you're trading, you should always double and triple check the URL you're on to make sure that you're trading on the right site.
Just because you can't give a malicious contract an approval to drain your wallet, you could sign a transaction that transfers your assets to a scammer. Make sure you read through the transaction before you sign. Check the receiving address or addresses, and make sure you know what is leaving your wallet. If there is anything suspicious, it is always better to stop and ask someone trusted.
You Can't Lose What You Don't Risk
The most important tip to any kind of trading is to never risk what you can't afford to lose. That is especially true for assets that are volatile as meme coins and DeFi tokens. While you may read stories of people who turned pocket change into millions from meme coins, there are plenty of stories you'll never hear about people who lost it all trading meme coins. However much money you invest into meme coins, you should be willing to see it all go to zero. Remember, if you don't risk it, you can't lose it. Sometimes it can be better to stay on the sidelines, especially if you aren't comfortable with the amount of money you're trading.
Overall, meme coins have been an exciting time in the cryptocurrency world. On Cardano, meme coins have introduced many new users from other chains to Cardano and all that it has to offer. As you go explore the world of meme coins, remember to have fun but be safe.